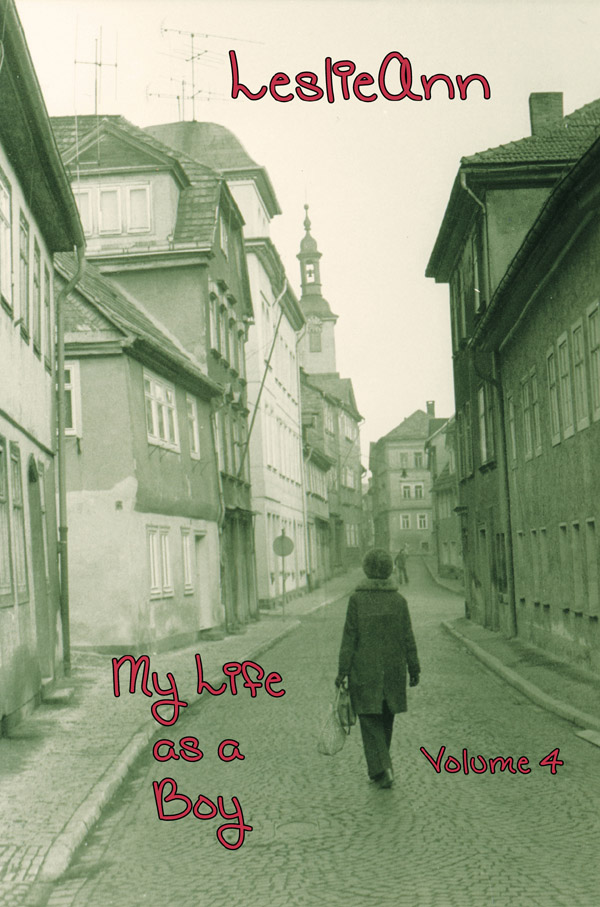 LeslieAnn My Life as a Boy Vol. 4
by E.J. Gold
BK238
$34.95
Paperback Edition 8 1/2 x 11
"An exciting, hilarious, and thoughtful adventure (we're behind enemy lines!) through barriers, membranes, levels, and divisions of all kinds. LeslieAnn's story is a wonderful reminder that, as G. Spenser-Brown said, "To cross, and then re-cross, is not to have crossed." Food for thought! Investigation, voyage, initiation, it's all here. And, speaking personally, it's wonderful to know, even after the fact (if that's even possible!) that others have been up the same wonderful (full of wonder!) and occasionally confusing and terrifying (for me at least) territory--and not just survived but thrived. (And not parenthetically, either.) And that the answer to the question "Are you a boy or a girl?" might be both and neither. I've delightedly given a copy to my brother Douglass, who, in spite of what seems clearly to be a preponderance of evidence to the contrary, still insists--and possibly even really believes--that he is more "real" than I am. Dream on, brother! I am quite confident that LeslieAnn and her story will be able to make him reconsider this absurd position. Listen, LeslieAnn has always been a huge, or at least big-boned, mentor & guide to this late-blooming gal, and this book just adds to the list of my things-to-be-grateful-for. Not to mention that I no longer worry about growing old gracefully. Thanks for everything, Sister!"
-- Dorothy Truth, Waitress, Performer
" I just read Life as a Boy, Chapter 194....Oh my gosh, I was riveted with that....If I was on a deserted Island and that is all I had to read, I wouldn't be bored, unhappy, angry, all those things, I'd have lots of friends to talk to and learn from....Higher friends, and Thank you Grandpa Herman, LeslieAnn. Now to get to work, for right here, right now!"
-- Kay Waltzer, Diploma in Le Cordon Bleu Culinary Arts, Retail Store Buyer, Retail Department Manager, Chef, Artist
"I admire this guy/girl's humor, warmth, talent, double DDs ... and blog."
-- Patty Small
"Embedded in the story and humour are profound teachings on quantum entanglement as it relates to: theatrical and real magic, telepathy, the use of images as quantum couplers, the Prosperity Virtual Ashram and jewelery making. The use of gold panning is introduced as a method of developing Special Attention. Theatrical magic is shown to be a way of achieving Intentional Quantum Entanglement with Higher Beings. There is so much packed into this easy to read volume - you'll want to read it again and again...."
-- James Hodgkinson, MSc., Graduate Royal Institute of Chemistry
"I consider LeslieAnn's latest volume to be essential reading. This book contains information you will find nowhere else, including further anthropological studies of women and men, as well as strategies for handling that special someone with Narcissistic Personality Disorder. LeslieAnn invites you on excursions into her past lives, parallel lives and present life -- "which is the hardest to deal with objectively". This book repeatedly reminds me that there are higher goals than building a cosy nest available to me right now. LeslieAnn's words are of benefit to all."
-- A. Bishop, Writer, Artist
"My Life as a Boy, or aptly put 'Transforming Life of a Girl'. LeslieAnn says, 'Stand Up!'"
-- Shimal Ahuja, WhiteSeer, PVA, Leadership, Cultural Training and Corporate Communications Trainer, Brand Management Consultant, Events Organizer, CSR and Gender Diversity Specialist.