Secret Talks Volumes
A Little History
Books based on talks given by E.J. Gold over a period of years. These books are the basis of many of the paperbacks Gateways publishes. The paperback versions are edited from the private publication volumes. Readers who are interested in the data in a less digested form, or who simply wish to acquire a complete collection of the author's writings, can still buy these volumes from us. Keep in mind that the edited paperback versions are all approved by the author and often include updates and clarifications of the ideas and exercises. On the other hand, several of these volumes are too esoteric for paperback circulation and will probably remain as limited edition publications, whether in print or electronic form, or any other format on the drawing boards for humans or other sentient future readers.
An Update
The original private publications were issued by IDHHB in the 1970s and 1980s on a subscription basis. The author, E.J. Gold, later decided that The Volumes (as we call them) needed to be updated and edited into a form that is useful to the more general reader of esoteric subjects. He feels that the paperbacks issued by Gateways Books and Tapes are a more accessible, more lucid, and more accurate version of the teachings. Here is a list of the Volumes with the corresponding paperback books that are available from Gateways Books and Tapes or on Amazon.com. The author is still engaged in updating the later volumes, so several are presently out of print and not available in any form.
Volumes Availability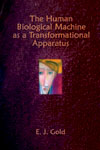 Volume 1
The Human Biological Machine as a Transformational Apparatus
Available as trade paperback of the same title.

Volume 4
Journeys to Inaccessible Monasteries
Available as trade paperback entitled Visions in the Stone.
Volume 5
Work of Groups
Not released as a trade book. For discussion group use in 2017, spiralbound edition available, $35.00 retail
Volume 7
The Great Laws
Not released as a trade book, spiralbound copy available from Gateways Books, $35.00 retail
Volume 8
Science of Objective Hypnotism
Still in process of editing by Author for trade release
Volume 9
Angelic Invocation
Still in process of editing by Author for trade release

Volume 10
Creation Story Verbatim play script
Currently out of print, we recommend the original paperback edition of this book.
Volume 11
Objective Art
Limited edition art book hand printed on lithograph press by the author, very rare and not published in a trade edition. Inquire from Gateways for leads (if any)
Volume 12
-- not completed
This volume has not been published in private or other editions. It simply has not be completed.