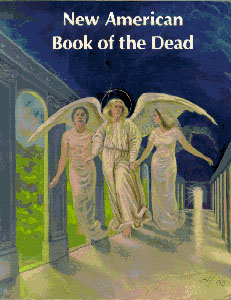 New American Book of the Dead
by E.J. Gold et al.
BK002
$35
Spiral-bound, facsimile edition, 8 1/2" X 11
Two printings were issued in the '70's and '80's of this version, the "Angels" book of the dead. Here each daily reading of the 49-day bardo journey is linked with an angelic chamber, a healing radiation, color, and prayer, in the Judeo-Christian tradition. This book is long out of print and very rare, but it is still the text preferred by some Labyrinth Readers who use this practice both for healing and for guiding those who have died. We anticipate doing a new edition of this "Angels Book of the Dead," and when we do we'll post the information here. In the meantime, we can duplicate the text in a spiral-bound, limited edition.