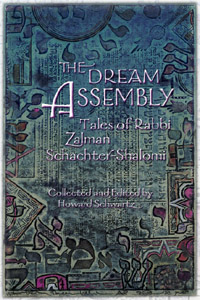 The Dream Assembly
by Rabbi Zalman Schachter-Shalomi & Howard Schwartz
BK026
$19.95
2004 Reprint Edition
Out of Print--Check this website in future for a new Gateways edition of this book.
A book of mystical tales set in the old world of the Hassidic masters, beautifully illustrated by Israeli artist Yitzhak Greenfield. The only collection of stories in print from Reb Zalman, acknowledged as a unique living kabbalist and esoteric teacher in this tradition.
"Reb Zalman is one of the great teachers of our time..."
-- Jean Houston, founder of The Mystery School and co-director of The Foundation for Mind Research