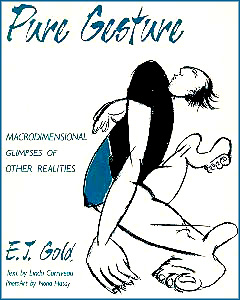 Pure Gesture
Art of E.J. Gold, text by Linda Corriveau, Photoart by Nona Hatay
BK032
$49.95
Trade Paperback
Lavishly illustrated with many, many incredible photoart images as well as photos of the artist in his studio Pure Gesture is a must have for all aspiring artists, collectors and art consultants alike. Pure Gesture is filled with words of wisdom on many domains.
No matter how many art classes you attend or how many paintings you study you will never learn what is given inside the covers of Pure Gesture...be amazed.
Although innumerable sytlistic experimentations have led E.J. Gold in many directions over the years, it is the use of gesture that has become his trademark. Gold has produced thousands of gestural images with the ease of a magician, asserting himself as a master of atmospheres and moods. The drawings presented in Pure Gesture are the culmination of years of aesthetic exploration.
These works have a profound spiritual basis. Like the art of sumi-e and of much abstract expressionism, they posit the existence of higher dimensions which they translate into visual forms which evoke subtle moods.
Or, they may compel a realization in us that we have just changed reality structure, that we are sitting in a higher dimension and viewing from there.
In correspondence with the gestural aspect of Gold's work, the text is multi-faceted. Editorial commentaries accompany each group of images. Quotes from the artist also enable us to glimpse his own thoughts about his work, influences, direction and the process of artistic creation in general. A further series of quotes from artists, collectors, connoisseurs, art dealers and friends offers yet another point of view on the nature and impact of his art.
As with other titles in the Gateways Fine Art Series, Pure Gesture has benefitted from the collaborative contribution of another innovative contemporary artist. Appearing throughout the book of are striking experimental photographs by photoartist Nona Hatya taken during a memorable one-week visit to the artist's home and studio. These unique, one-of-a-kind prints provide the reader a view of the intensity and dynamic nature of the artist, E.J. Gold, at work.
"When the art is coming through, the artist is like an interest observer; you're not running the show, you're looking at it at the moment of creation, and afterward, when it's time to sign the piece you feel funny because you didn't really do it, it did itself, it came from somewhere so far beyond our seeing that we can't even imagine what the source must have been...I guess there's a certain amount of credit due to the artist for dipping the brush into the paint."
"We voyage in a labyrinth, a macrodimensional maze of living electrical force, cloaked by a thick layer of ordinary life. The most serious obstacle is the uncontrollable urge to convert everything to the familiar, to reduce it all to the level of the primate brain."
-E. J. Gold
"Gold has made his reputation by pursuing the supra-ordinary through innovative and controversial experimentation."
-Per Heiberg (Art Consultant and Collector Oslo, Norway)
"E.J. Gold's intellect, passion and intensity keep him on the cutting edge of the art world. He is a contemporary Renaissance man, a genuine avant-garde visionary whose artistic expression will stand the test of time. Wee are all enriched and expanded by E.J and his work."
-Larry Rosenbaum, (Past Pres. Board of Advisors Nassau County Fine Art Museum Gallery Director, New York)