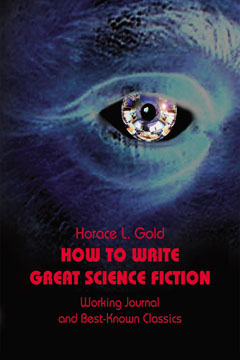 How to Write Great Science Fiction
Working Journal and Best-Known Classics
by Horace L. Gold
BK070
$24.95
268 pp 6" x 9" paperback
ABOUT THE AUTHOR
"I was born the year World War I started, graduated the year Roosevelt and Hitler came to power, got married the day World War II began, had a son 20 days after Pearl Harbor, founded Galaxy magazine just minutes ahead of the Korean War, got divorced the year of the Sputnik, remarried the year of the Gulf of Tonkin Resolution. In other words, I'm a historical Typhoid Mary." Horace L. Gold
ABOUT THE BOOK
There has never been a collection of stories quite like this. It was originally published 1955 in America, and 1965 in Great Britian. Since then, it has been a highly treasured rare book in the collection of connoisseurs of Silver Age and Golden Age classic Science Fiction.
As a collection of SF stories, this book is excellent in its own right, but its added attraction --a unique feature-- is the author's editorial notes on each story, taken from his working journal. These notes constitute a "how to do it" on writing science fiction stories, from one of the pioneers of the genre.
The stories themselves are taken from about fifteen years, during which H.L. Gold wrote for many editors and edited the most widely read SF magazine in the world: Galaxy. The author has compiled many collections and written many stories but this anthology is unique not only within his own work, but also in the world of Science Fiction in general.
For the aspiring author, and for the seasoned, professional writer alike, these short stories and sharp commentaries have been a treasure of inspiration for half a century. This book is an excellent resource for every class in creative writing.
SALES POINTS
Horace L. Gold, as editor of Galaxy Magazine, started what now is known as the Silver and Golden Age of Science Fiction
How to Write Great Science Fiction is an excellent resource for writers, aspiring or seasoned, especially, but not exclusively, in the Science Fiction and Fantasy Genres.
Contains science fiction stories as well as detective thrillers with a SciFi twist.
SHELVING
Science Fiction, Short Stories, Creative Writing
DISTRIBUTION
Independent Publishers Group,
The Distributors, Ingram,
New Leaf Distributing Co.
In U.K. and Europe: Gazelle
Book Services, Ltd.

PUBLISHER DIRECT
Gateways Books and Tapes
P.O. Box 370
Nevada City, CA 95959
phone: (800) 869-0658 or (530) 271-2239
"The great stories that came out of this era were inspired by great editors —- and the inspiration of Horace L. Gold, preserved in these pages, truly brought about science fiction's Golden Age." —Robert Bloch, Author of Psycho
in his dedication to What Will They Think of Last by H. L. Gold, 1976
© Copyright 2002, Gateways Books and Tapes, All Rights Reserved.