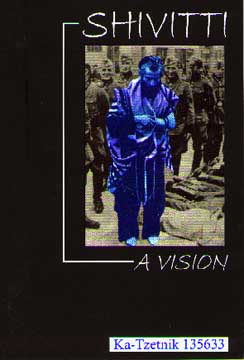 Shivitti: A Vision
by Ka-Tzetnik 135633
BK085
$15.95
Quality Trade Paperback (Out of print)
About the book:
Imprisoned in Auschwitz for two years, having eluded death by the narrowest of margins, the man known as Ka-Tzetnik 135633 survived the Holocaust to discover that survival alone would not end his torment. For 30 years, through nightly dreams of terrifying intensity, the writer remained captive to the horrors of Auschwitz. Finally in 1976 he sought help from Professor Bastiaans, the Dutch psychiatrist who first recognized Concentration Camp Syndrome and successfully treated camp survivors with a therapy involving doses of LSD. Shivitti is a memoir of that experience, and reading it may change your life.
An extraordinary book written by an extraordinary person. It is a long time since I have heard a voice like this: the voice of a wounded soul whose cry is prayer. --Elie Wiesel, author and Nobel Prize laureate
An excerpt from the Author's Foreword:
When Nike, my lifemate, heard that a psychiatrist in Holland, Professor Bastiaans-discoverer of the Concentration Camp Syndrome--had been healing camp survivors with a new method of treatment incorporating LSD, she came rushing to me with this piece of good news.
I will never forget the way she suffered silently through my nightmares, concealing her own feelings. My own strangled cries would awaken me, feverish and dripping, with Nike by my side, toweling away the fearsome seepage of sweat, her eyes brimming with unspoken fear and compassion.
To this day there's this one thing I can't understand: why the nightmare never took over when I slept during the day. That is why I practically turned day into night, and night into day.
An excerpt from the Preface to the Italian edition by Rabbi Don R. Singer:
This book is the true testimony of a man who knocked on the gates of Hell in order to reenter and discover the meaning of the events he lived through many years before in Auschwitz death camp. He wrote his first testimony a few months after World War II in a transit camp in Italy still wearing his "Auschwitz shrouds." He was not expected to live. Racing death he wrote as in a trance completing the book, Salamandra, in exactly two and a half weeks. But he could not pen his own name to the manuscript. The book was written by those who had become fire in the ovens of the crematorium. He chose, for author, the name shared by all the captives: Ka-Tzetnik 135633, "Concentration Camp Inmate," and the number the Nazis tattooed on his arm. In Israel he changed his personal name to De-Nur. De-Nur means "Of the fire."
An excerpt from the Preface by Dr. Claudio Naranjo, M.D.
We have here a little book of immense bearing, which might well be announced in terms similar to those chosen by a reviewer of the recent movie on the sinking of the Titanic. Just as in his review he observed that the moviegoer should not come to admire such things as camera work or even plot, but to grasp the enormity of the event that was reflected by the movie--here the reader should not look so much for literature, psychotherapy, or history as for the extremity of the experience of the holocaust.
Before all else we should be aware of the rarity of this document. Not only was it exceptional enough for the author to survive Auschwitz, but it is a rare thing for someone who has undergone such a descent into hell to be able to tell the story. Furthermore, I am sure that most human beings don't even succeed in being truly present to themselves before such horror, while here we have still another striking exception: De Nur is able to be a witness in retrospect because he was an exceptional witness of life at its worst, while it was happening. It is precisely to this that we may attribute his very survival--or more exactly, to the fact that he was able to keep the Shivitti (i.e. the reminder of the presence of God) always before him throughout his years of imprisonment.