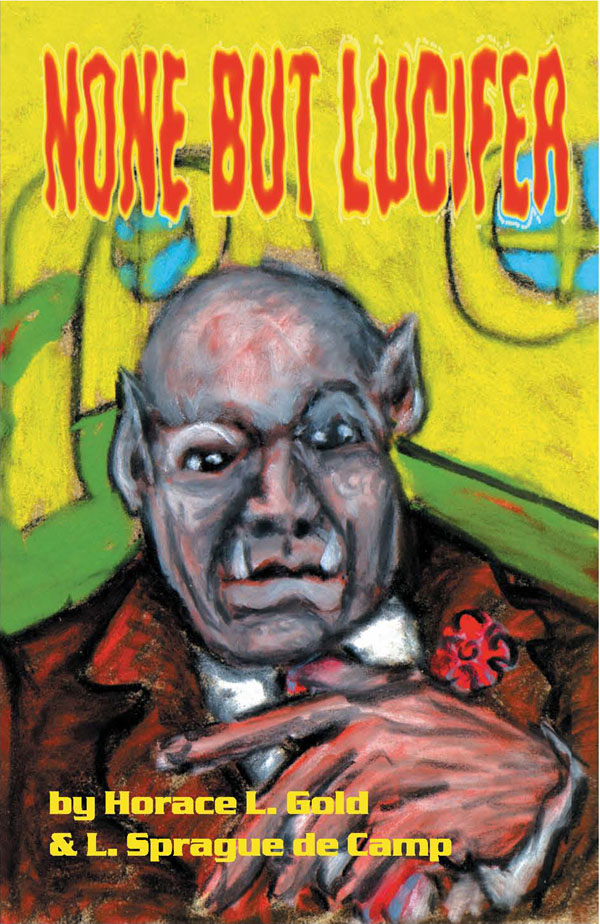 None But Lucifer
by Horace L. Gold & L. Sprague de Camp
BK091
$19.95
6" x 9" paperback
ABOUT THE AUTHOR
"I was born the year World War I started, graduated the year Roosevelt and Hitler came to power, got married the day World War II began, had a son 20 days after Pearl Harbor, founded Galaxy magazine just minutes ahead of the Korean War, got divorced the year of the Sputnik, remarried the year of the Gulf of Tonkin Resolution. In other words, I'm a historical Typhoid Mary." -- Horace L. Gold
ABOUT THE BOOK
This classic novel was published in 1939 in the magazine Unknown Worlds, and was never issued as a book publication. It is a unique work in the genre, a dark, Faustian satire that may also be taken seriously about a man who matches wits with the Devil himself. With this belated book premiere of an important work of American literature, Gateways Retro SF sets the starting point to a revival of a series of legendary and influential masterpieces of the SF/Fantasy genre.
SALES POINTS
Horace L. Gold, as editor of Galaxy Magazine, started what now is known as the Silver and Golden Age of Science Fiction, cooperating with SF authors who in the following years received celebrity status:
None but Lucifer is a veritable buried teasure of American fiction writing.
A modern adaptation of the Faust myth, with a very unique and peculiar twist.
SHELVING
Science Fiction, Short Stories, Creative Writing
"The great stories that came out of this era were inspired by great editors--and the inspiration of Horace L. Gold, preserved in these pages, truly brought about science fiction's Golden Age."
--Robert Bloch, Author of Psycho in his dedication to What Will They Think of Last by H. L. Gold, 1976