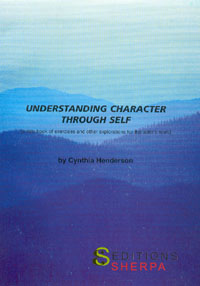 Understanding Character Through Self
A little book of exercises and other explorations for the actor's work.
by Cynthia Henderson
BK110
Published by Editions Sherpa, Cameroon, Africa
Cynthia Henderson's book is a pocket manual of exercises and insights for acting students, theatre students, or working actors. Drawing from a variety of sources, these exercises provide new perspectives and practices to broaden any actor's craft and any teacher's methods.
Cynthia Henderson teaches acting in the Department of Theatre Arts at Ithaca College, New York. Her professional acting career spans two continents and two decades, including work off Broadway, in film, and on television. Cynthia has also been a Fulbright Scholar in Cameroon, Africa, where her work included research into and practical application of Theatre for Social Development.