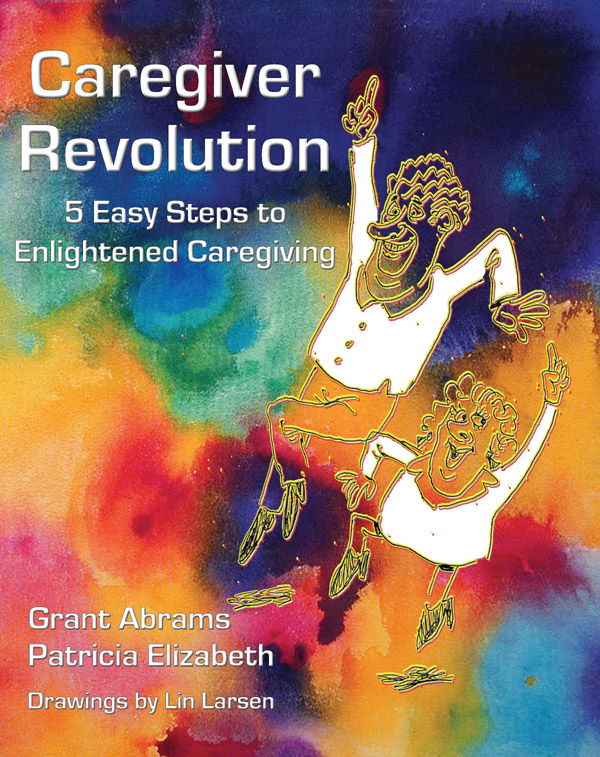 Caregiver Revolution
5 Easy Steps to Enlightened Caregiving
by Grant Abrams & Patricia Elizabeth
$19.95
Quality trade paperback, 180 pages
For years, especially in western culture, taking care of the elderly, the infirm and the dying has been viewed in a negative light. Terms like caregiver burnout, burden and strain have dominated the discussion. But now that has changed with The Caregiver Revolution, a book and movement that is dedicated to getting rid of the stress and transforming caregiving into a positive, life affirming experience.
The Caregiver Revolution infuses caring for others with enthusiasm and hope. The book provides simple tools and techniques for organizing the home environment, creating a .care circle,. reducing stress, and practicing .here and now. mindfulness in the midst of the hectic caregiving environment. Straightforward and practical methods are provided for dealing with crisis situations including a section on how anyone can be gracefully present with someone who is dying. With a light and accessible tone, The Caregiver Revolution.s practical information is supported by real-life anecdotes and whimsical illustrations.
The Caregiver Revolution should be on every professional care provider.s shelf. It is packed with accessible information about healing techniques and how to stay .present. with patients. The perspective of this book is that the end of life is a valuable time of spiritual growth. The foundation of it is that caregiving is valuable, rewarding work.
From the Book:
This book is about personal growth, wisdom, and sharing. It.s based on the premise that you can grow and gain wisdom by helping others at the end of their lives. And, then you can share this wisdom with those who are fortunate enough to be with you at the end of your life.
Written for all levels of caregivers, this book is well suited for those who want to take their caregiving work to the next level. The first 3 chapters present information and exercises helpful to everyone. The last chapters continue with advanced techniques which reveal caregiving in a new light, as a tool which in itself can help caregivers deepen their own spiritual practices.
Program directors, supervisors and workshop presenters should feel free to use this material in their clinical in-services. It is practical and conducive to group presentation. Please contact us with any questions. We are happy to share this material.
We hope for a great deal.not the least of which is to revolutionize caregiving in the hearts and minds of the dedicated care providers who are doing this valuable work on a daily basis.
Table of contents
Introduction . Help Yourself by Helping Others
Step 1 . Take Care of the Basics
Step 2 . Manage your Stress
Step 3 . Strengthen your Caregiver Presence Forty Activities to Help you be Present
Step 4 . Help Those in Crisis and Transition
Step 5 . Provide Spiritual Care and Support Exercises to Help Another Prepare for Death
Appendices
Author Bio:
Grant Abrams is a physical therapist who has worked in hospital, home care, and nursing home facilities for more than 20 years. He has led and co-led workshops on caregiver stress reduction, life story telling, death and dying, tai chi, and yoga. He got interested in the holistic death and dying movement in the 1990.s and started a newsletter, The Great Adventure, which led to creation of the website, www.t-g-a.org. He lives in New Paltz, New York.
Patricia Elizabeth is a midwife and a terminal midwife. She has given workshops in the field of end-of-life care and death and dying for more than 30 years. She is a cancer survivor of 5 years. She lives in Grass Valley, California.