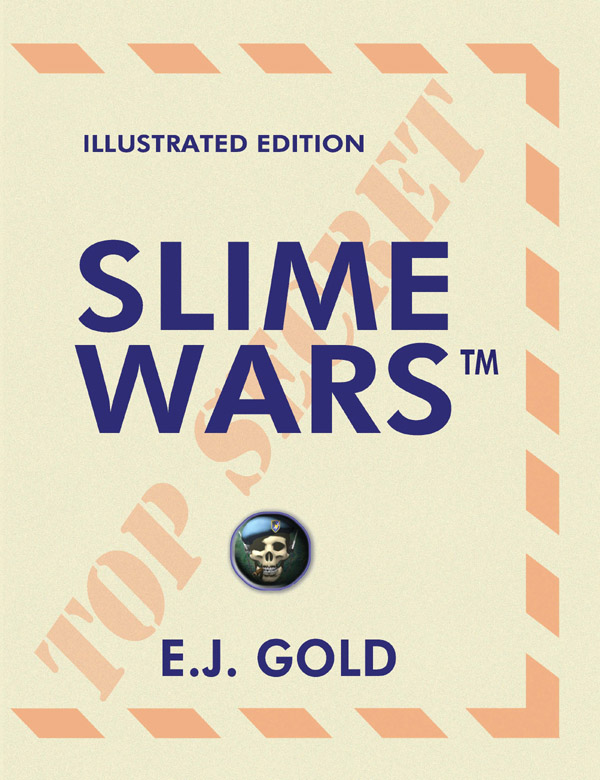 SlimeWars
by E.J. Gold
BK225
$79.95
Paperback Edition
"This book confirms my suspicion that E.J. Gold is a genius." -- Robert Anton Wilson
"Like a Metaphysical travelogue literary, charming and endlessly intriguing E.J. Gold's brilliant prose teases us into the mysteries of other dimensions in the accomplished manner of a true adept" --Jose Arguelles
"E.J. Gold. Gold is someone who has the right sense of humor." -- Robert S. de Ropp
"Slime Wars bends the brain, opens dormant channels into the Multiverse and the reading group is interspersed with lots of laughter, discussion and learning!." -- K.F
"The world of E.J. Gold transcends the wisdom of Buddha, the literary genius of Shakespeare, the artistic talent of Picasso, the humor of Will Rogers, and thoroughly homogenizes this transcendency with the mystical rays of the ethereal cosmos." -- Dr JR
"No comment." -- J. Edgar Hoover.
"E.J. Gold is a true voyager in the heroic tradition, always keeping the highest aims and the purest ethics close to his heart throughout his explorations." -- Iven Lourie
"E.J. Gold offers a rich feast. With finger poking us to wake up and pointing the way, he is a timeless translator for a lasting tradition in a clear and potent format." -- Dan Millman
"There is nobody that I know that I associate so much with the 'devious guide' (kash mir) . . . I have come to appreciate E.J. Gold as something much rarer than as an information disseminator: (He is) a teacher who does something through his communications and stands behind his statements." -- Dr. Claudio Naranjo
Author E.J. Gold says about SlimeWars:
My 350,000 word 740 page novel loosely based on my life story -- SlimeWars -- written some 22 years ago and never published, has finally found a co-publisher.
SlimeWars is intended to be read aloud in groups. It has a special purpose, of stimulating various parts of lower and higher centers, from the moving/instinctive all the way to the highest essential centers, in chordal groupings and multi-level responsive interactions, in much the same way as the interwoven parts of an orchestral work would function for the stimulation of various parts of psycho-emotional and sometimes spiritual centers.
It also happens to be extremely funny, I'm told. The amusing aspect is that spoonful of sugar that makes the medicine go down; it's there to make the book fun to read, but is not the primary intention.
This book is NOT for the public. It is not, and was never, intended for public release. It is being offered to you with the understanding that you will use it for its primary purpose, that of awakening and activating the full spectrum of lower to higher psycho-emotional to spiritual centers in the reader and listeners.
Yours in The Work,
ej gold
Reports from groups reading SlimeWars:
This is an amazing book. I really look forward to our weekly readings. The space surrounding us during that time is extraordinary ... and the story is fascinating, too. -- V.J., Grass Valley, CA
Another meeting has come and gone like the days that fleet past us. The difference being that our meetings are like high points, like moments held above water, above the ones that blend into the slush of memory like mud into snow, a stretch of time freed from the drivel of la vie ordinaire. Que magnifique! -- L.S., Los Angeles Group
The hardbound is now rare and out of print, click here to contact us with inquiries.