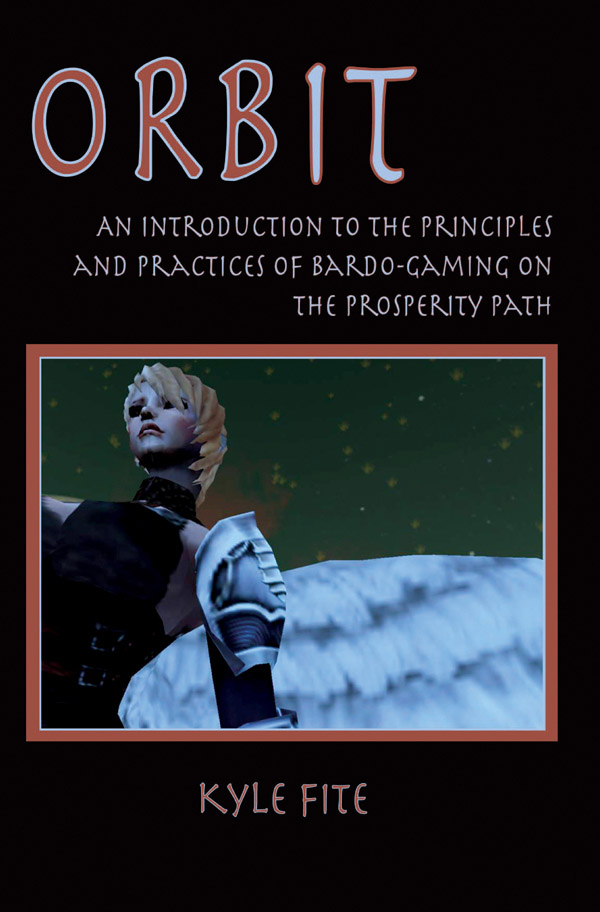 ORBIT
An Introduction to the Principles and Practices of Bardo-Gaming on the Prosperity Path
Kyle Fite
BK242
$17.95
140 pages, incl. 16 illustrations, 8 color plates
Orbit An Introduction to the Principles and Practices of Bardo-Gaming on the Prosperity Path
Instant (PDF) download $(12.95)

ORBIT is an introduction to the world of Bardo-Gaming, a means to employ the technology of video games in the pursuit of personal growth and service to others. Beginning with the .Orbs,. a growing series of free games which can run on almost any PC, this book looks at the struggles of everyday life as well as our aspirations toward enlightenment, awareness and contact with other- dimensional realities. From this point, the phenomenon of Second Life is explored in context of E.J. Gold.s .Prosperity Ashram,. a virtual environment designed specifically to amplify group work and the fulfilling of the Bodhisattva.s Vow. Anecdotes and exercises are woven into a narrative which opens with the initial premise of Buddhism: .Life is Suffering.. From here, the text moves into an exploration of what can be actively done about this dilemma. Many schools charge exorbitant fees for teaching and, of course, teaching is worthless if divorced from actual practice and work. ORBIT shows how both of these elements can come together in a dynamic unfolding in the convenience of one's own home.
TABLE OF CONTENTS
Preface: Your Electric Monk
Ch 1. Game On!
Ch 2. Connecting the Worlds
Ch 3. Burning Karma
Ch 4. Entering the Labyrinth
Ch 5. Self & The Other
Ch 6. Orb Selection
Ch 7. The Voice of the Angels
Ch 8. Orb Missions
Ch 9. GODD made GHOSTS
Ch 10. Entering the Ashram
Ch 11. Aleister.s Angels
Ch 12. Experimentations
Ch 13. Hot Spots, Surrender and the Super-Star
Ch 14. Running the Remedy
In Conclusion
A fantastic guide for those ready to begin spiritual gaming, deepen their practice or those wishing to simply engage in their initial explorations of this vast area of spirit tech. ORBIT takes you through all the needed steps on this journey in a very friendly and easy way and in no time you'll find yourself mastering new levels and walking through new realities. Ideas, philosophies and theories are discussed as well as all the practical moves necessary for your jump into the parallel worlds created by EJ Gold and his GODD Team. Gather your power in the single player experience of the Prosperity Path Orbs and then make a quantum leap into the Prosperity Virtual Ashram where you will be able to work directly with others on spirit quests. You can do this! You don't need to be a geek and previous knowledge is not necessary, just grab yourself a cup of your favorite brew, find your favorite spot and settle in for a fun and engaging ride through this thing we call "The Universe".
J. S.