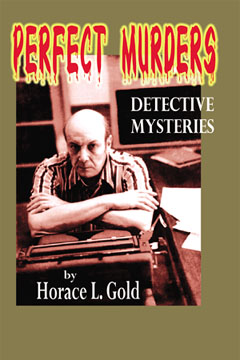 Perfect Murders
Detective Mysteries
by Horace L. Gold
BK254
$24.95
Paperback Edition 6 x 9
ABOUT THE AUTHOR
"I was born the year World War I started, graduated the year Roosevelt and Hitler came to power, got married the day World War II began, had a son 20 days after Pearl Harbor, founded Galaxy magazine just minutes ahead of the Korean War, got divorced the year of the Sputnik, remarried the year of the Gulf of Tonkin Resolution. In other words, I'm a historical Typhoid Mary." -- Horace L. Gold
ABOUT THE BOOK
A collection of Horace L. Gold's delightful detective mysteries, the "Gilroy stories", published for the first time in book form. These detective thrillers are gems of short fiction, each with a very unusual twist.
SALES POINTS
Horace L. Gold, as editor of Galaxy Magazine, started what now is known as the Silver and Golden Age of Science Fiction, cooperating with hundreds of SF authors many of which today read like a Who's Who of classical Science Fiction: Brian Aldiss, Alfred Bester, Ray Bradbury, Arthur C. Clarke, Philip K. Dick, Harlan Ellison, Philip Jose Farmer, Danliel F. Galouye, Robert A. Heinlein, Frank Herbert, Damon Knight, C. M. Kornbluth, Willy Ley, Frederik Pohl and many more.
Perfect Murders is a is a great collection of American short fiction.
Detective thrillers with a SciFi twist.
SHELVING
Science Fiction, Short Stories, Creative Writing
"The great stories that came out of this era were inspired by great editors--and the inspiration of Horace L. Gold, preserved in these pages, truly brought about science fiction's Golden Age."
--Robert Bloch, Author of Psycho in his dedication to What Will They Think of Last by H. L. Gold, 1976