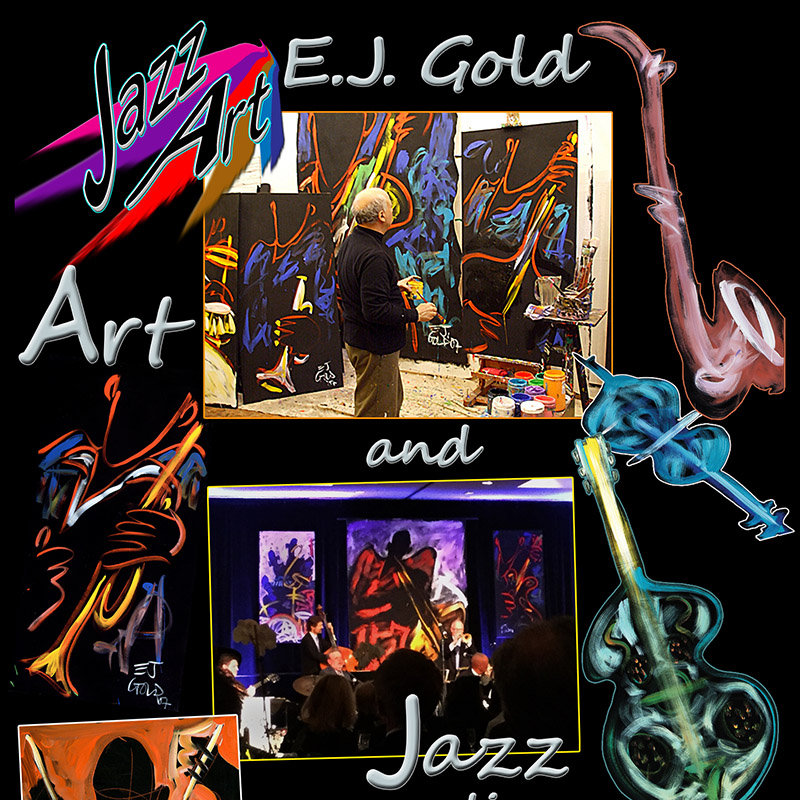 E.J. Gold's JazzArt Scrapbook
E.J. Gold
BK278
$475
Bound with hand painted cover.
Inquire for availability
If you are interested in the special artist created edition please use our contact form to inquire.
The JazzArt Scrapbook is 20 pages displaying JazzArt on stage with numerous celebrities like Herbie Hancock, Nancy Wilson, Ravi Coltrane and Chick Corea as well as adorning concert and intimate performance venues coast to coast since 2001.
E.J. Gold was named the official artist for the International Association of Jazz Education (IAJE). His JazzArt canvases graced their international stages and his banners decorated convention centers, freeways and NYC hotels during their annual conferences.
Gold's JazzArt opened the premier of San Francisco's Jazz Heritage Center in 2007.
Both in 2011 and 2014 Wynton Marsalis on tour with the Jazz at Lincoln Center Orchestra performed in northern California surrounded by Gold's 11 ft. JazzArt stage panels.
E.J. Gold with his JazzArt has been a longtime supporter of the California Jazz Foundation aiding jazz musicians in need and honoring memorable figures in jazz since 2006.
E.J. Gold's JazzArt Scrapbook gives the viewer a colorful tour of all these prestigious events plus more.